Window Washing
Deja View has the equipment and experience to clean your dirty windows. Storm windows, picture, double hung, and french panes, we've cleaned them all. We are traditional window cleaners and will not use water fed pole systems.  All windows are cleaned by hand.  Always included is a full cleaning of the tracks, frame, sills, and screens too. Your windows will stay cleaner longer because we clean the entire window, not just the glass.  You can choose to have both inside and out cleaned, or the exterior only.  Call now for a FREE, in-home estimate.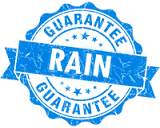 We also offer you a 7-DAY Rain Guarantee!
You can feel secure with your investment in clean windows as we
offer the industry's longest guarantee against weather.  
If your view gets cloudy within 7 days of service,
we will return to make touch ups free of charge.
Light Fixture Cleaning
We are able to clean your unique and hard to reach light fixtures.  It doesn't matter if they are inside the house or out, we have the equipment necessary to reach them, and give them a thorough cleaning by hand.
Screen Repair
From replacing worn or torn screen mesh, to rebuilding screen frames, Deja View has the knowledge to get it done. Most repairs can be performed on site, using high quality screen materials. We can even work with your insurance company in hail damage claims.
Gutter Cleaning
Keeping your gutters clear of debris is very important in protecting your home from unwanted water getting in. After a free visual inspection, Deja View will remove and bag all debris, and inspect downspouts to ensure proper flow. The debris is then taken with us at no additional charge. We can also assist in performing small repairs to your gutter line.
Dryer Vent Cleaning
Over time lint, debris, even critter nests can clog and block your clothes dryer venting. This causes your machine to work harder, and use more power. Most importantly, it is a common cause of house fires. We use a special system of brushes and vacuums to clear your vent of dangerous lint and restore your peace of mind.
Holiday Light Installation
Deja View has the special tools and experience necessary to get your holiday lights hung safely. We can install lights on up to 3 story homes and to the top of 35 ft. trees. You supply the lights, and we provide the knowledge and manpower. Then when the time is right, we will return to take them back down, and store properly for you.
Commercial Services
Deja View can clean your businesses windows too. We are experienced in cleaning storefronts, restaurants, new construction, and buildings up to 5 stories. Our uniformed and trained technicians are all fully insured for your protection  We offer one time appointments and special pricing for routine maintenance visits. We are fully insured for your protection. Call NOW for a free estimate.